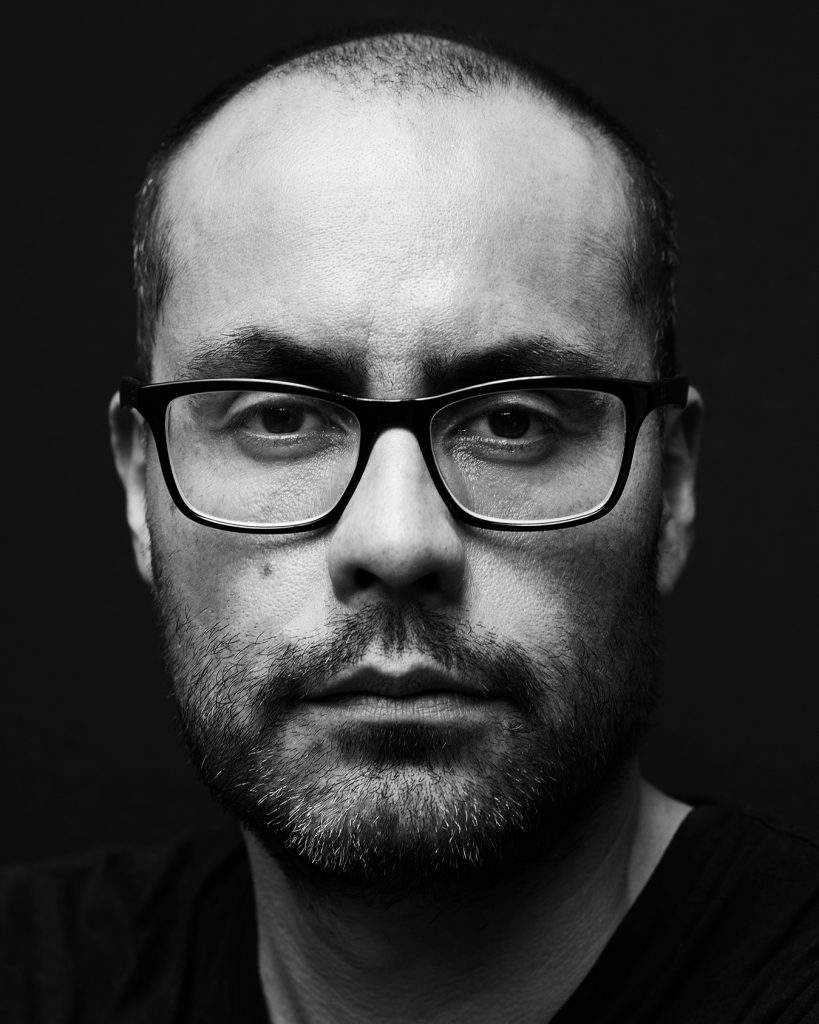 My fascination towards the images started when I discovered the photography magazine collection that my older brother had. I was little but I preferred to turn the pages of every PHOTO Magazine -a French photography magazine established en 1967- rather than kicking a ball with my friends. Hours passed while I look at the published photos on these magazines. That is how I started, without even knowing, to get familiar with the most important photographers from the 80': Irving Penn, Richard Avedon y Helmut Newton, among many others. Those years were key for building my visual universe. Besides contemplating my brother's magazines, I loved to play with my brother's Nikon F3 camera. I saw through the viewfinder, shoot -even when there wasn't a film inside the machine- and I imagined the frozen images.
The first time that I felt I was supposed to build my professional career in the photography field was during my teen years when I saw a developed film from a family vacation trip. Those images that I captured with an analog reflex camera on automatic mode, connected with my heart in an instant. I couldn't believe that those landscapes that I was seeing in the paper were shot by me. That is how I started a self-learning process that would take me to the growth of my personal work and to my decision of studying Advertising, since at that time at Bogota, it was the only bachelor that offered me training in the image field.
I studied Advertisement at the Universidad Jorge Tadeo Lozano (Bogotá). It was by that time that I decided to participate with my personal work at books and expositions contests. In 1993 I sent a series of photographs to the first biennial of young photography of Colombia. Surprisingly I got selected. The next biennial, in 1995, I got an honorable mention award. Then my work started being shown at Colombian photography rooms and photography books.
While studying Advertisement, I started to get in contact with the world of commercial photography. I decided to assist an advertisement photographer who taught me the language of this scenario, techniques and lightning. When I graduated from university, I already had started to make a living as a photographer by shooting products and food. Of course, I continued to look at magazines, it still was my favorite hobby, I spent hours at the Libreria Nacional just to devour as much as I could. Among the titles, I reviewed two classic magazines always popped into my eyes: Esquire and Vanity Fair. A couple of years later, I received a call from a photography editor who had seen a portrait that I took published in a book where my work had been previously selected. That was the moment when I started to work in the editorial world.
I decided to dive deep into my studies and thanks to my job I could pay myself a master course on photography at the Centro Internacional de Fotografía y Cine (EFTI) in Madrid, Spain. It was then when I got to know the contemporary photographers, this changed my idea of what photography was. What came after, from 2002, was a great time of putting myself to test and show what I've learned, always on the side of the paper: the magazines. Then, I straighten my job by portraying celebrities, fashion models, politicians, writers, actors, actresses, and musicians. As an editorial photographer, I had had the chance to work for the most important magazines in my country and some of the best in the world.
Nonetheless, the biggest challenge of my professional career was when I worked as a photography director of Esquire Colombia for four years. This experience was essential for my work to evolve, all because the level of rigor was immense and because the New York's headquarters of the magazine offered us tones of freedom. Yes, my photography work arrived at the pages of the magazines I had admired all my life.
Today I continue to work as an editorial and advertising photographer and to reconnect with my personal work. Among other media and companies I have worked for: Vanity Fair UK, MANGO MNG Colombia, Sony Music Colombia, Falabella Colombia, El Pais (España), Getty Images (Global assignments, Bloomberg Magazine, New York Times Magazzine, TLC, Oracle), Casa Editorial el Tiempo (Magazines: Don Juan, Bocas, Carrusel), Editorial Televisa Colombia (Magazines: Esquire Colombia, Gente, Infashion, Tv y Novelas, Caras), Esquire Mexico, Esquire Latinoamérica, Grupo Semana (Magazines: Soho, Fucsia y Jet-Set), DDB Colombia, Leo Burnett Colombia, Mullen Lowe SSP3, Grupo Editorial Planeta, Mccan Erickson Colombia.